About Us
The 1st Indian Thread Gauge Manufacturing Company having API Certification ISO 9001 & IS 17025 NABL Accreditation.
Size Masters® Precision Gauges Manufacturing quality thread gauges was established in the year 1999. The first Indian thread gauge manufacturing company having ISO 9001 DET NORSKE VERITAS & ISO 17025 NABL Accreditation & with total plant area measuring 19000 sq ft. having up to date modernized precision machineries.
Quality is always our main focus and we are making continual improvement with our team of dedicated employees who are striving hard with sole mission of Zero defect Product, Right First Time & total customer delight with the help of customer feedback and technological advancement.
Gauge manufacturing is our passion first and then a business. Today we are manufacturing variety of thread gauges as per IS, ISO, ASME, DIN, JIS, GHOST & other International Standards comprising of METRIC, UNIFIED,UNJF, UNJL, HELICOIL, "G" Serires, ISO228, PF, PG, BSW, BSF, NPT, NPTF, ANPT, NPSI, NPSF, NPSM, BSPT,IS0 7, PT, API-5B-LP6, CSG, BUTT CSG, TBG, UPTBG, Int.9T TBG, API-7-2, NL, REG, FH, IF.

SPECIAL - ACME, STUB ACME, HAMMER UNION (ACME), TRAPEZOIDAL, BUTTRESS, SAWTOOTH, KNUCKLE & Custom Make., STI(Wire Threads), NPSC, NPSH,NPSL, UNTC, UNJF, DIN2999, DINI58.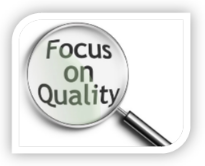 Quality Policy
We at SIZE MASTERS® are committed to continuous improvement in quality management system. We are known for quality and value for the money to all our customer & we wish to continue the same. We aim at market share multiplication based on our team effort.
Quality Process
Our high precision gauges manufactured using Tungsten based O.H.N.S., Steel duty tested & sub zero treated in house to close tolerance at out ultra modern facility equipped with universal thread grinding machines to achieve the requisite precision.